We have been developing our unique steel structure, the LLENTAB system, since 1972.
LLENTAB delivers buildings of different sizes, structures, roof slopes, insulation, cladding, fire resistance and colour combinations. The permanent search for first-rate technical solutions and development of production facilities makes us one of the leading designers and producers of steel buildings in Europe. Profiles produced on high-tech lines enable us to deliver steel structures of buildings with unlimited sizes and spans of up to 100 m. Galvanised cold-bent profiles guarantee long-lasting quality and low steel consumption. Assembly with bolts permits the fast erection of structures and long-lasting protection against steel corrosion. All our profiles have holes pre-punched during the production process. This, along with the labelling of each profile, ensures correct assembly. LLENTAB uses profiles with thicknesses from 1.5 up to 7 mm. High-strength steel is used for all profiles up to a thickness of 7 mm. Our profiles are produced from hot-dip galvanised steel delivered to us in coils. For thinner profiles (up to 2 mm), a Z275 layer is used, while for the rest Z450 is standard. Profiles are roll-formed or bent into a variety of sizes and the shapes are Z (mainly for purlins and wall racks), C (for trusses, pillars and frame elements) and Ω (for the top and bottom flanges of the frame).

1) Base foot   2) Structure pillar   3) Pillar coupling    4) Bolt, washer and nut   5) Anchor plate
LLENTAB pillars are made from C profiles, starting with two connected C profiles up to truss pillars for very high buildings and halls with crane runways. Standard pillar types:
2xC pillars
2xC170: thickness 3/4/5/6 mm
2xC250: thickness 3/4/5/6 mm
2xC300: thickness 5/6 mm
2xC360: thickness 4/5/6 mm
2xC380: thickness 6 mm
QUADRO (4xC) pillars
4xC360: thickness 4/5/6 mm
Truss pillars (2 pairs of 2xC pillars at a distance of 500~1200 mm)
4xC170: thickness 3/4/5/6 mm
4xC250: thickness 3/4/5/6 mm
Can be a combination of 170 mm and 250 mm profiles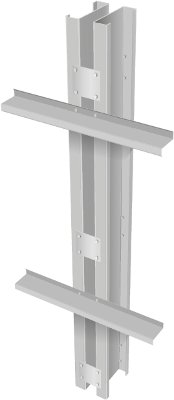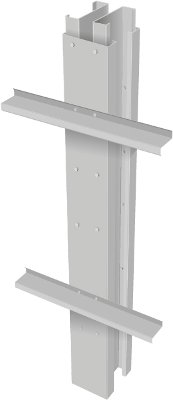 QUADRO, 4xC profile pillars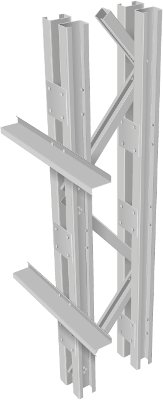 Roof frame
The flexibility of the LLENTAB system creates the possibility of delivering different roof slopes according to customer needs. LLENTAB steel buildings can be designed with an insulated or uninsulated roof, with a pitched roof or mono-pitch roof (single slope) and with a roof slope of 1°, 2°, 3°, 4°, 6°, 7°, 11°, 14°, 17° or 21°. LLENTAB delivers several types of flat membrane roofs, panel roofs and 'plate-wool-plate' roofs with high insulation values and exceptional water and corrosion resistance.
Walls
Gable walls may be load-bearing or overhanging. Customise your building by choosing between uninsulated or insulated walls. Choose the appearance of your panels, which can be mounted vertically or horizontally.
LLENTAB's roof cladding provides high leakage protection thanks to pre-punched holes in plates and purlins. Our uninsulated roof is a combination of galvanised and colour-coated TP46 roof plating, placed on Z-shaped purlins. Additionally, the inner face of the plate is covered with a condensation reduction foil.
The uninsulated walls are smooth, stable and popular with our customers across Europe. If you change your needs, it is possible to add insulation afterwards. Several options are available for insulating your building against cold or heat, including the thickness of the insulation and the choice of exposed, clad or hidden pillars. In addition to our sandwich panels and standard steel sheet solutions, we can supply the optional SINUS profile or steel façade casing as required.
(plate-insulation-plate from the outer side of pillars – Uc 0.23 for 220 mm of insulation)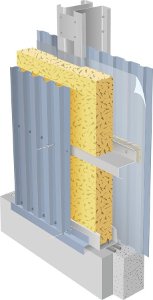 (type 3 plus cover pillars – Uc 0.23 for 220 mm of insulation)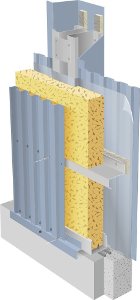 (vertical sandwich panels – Uc 0.22 for 100 mm of PUR or 180 mm of mineral wool)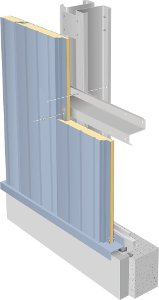 (interior sandwich panels – Uc 0,22 for 100 mm of PUR)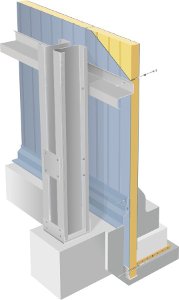 (horizontal sandwich panels – Uc 0,22 for 100mm of PUR or 180mm of mineral wool)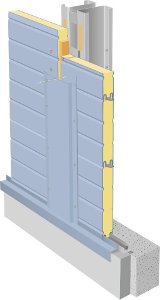 Roof insulation
Roof insulation may be made of sandwich panels, plate-insulation-plate or blown. Insulation may serve as the ceiling or be placed on ceiling plates, between purlins or above purlins.
(Uc 0.18 for 300 mm of insulation)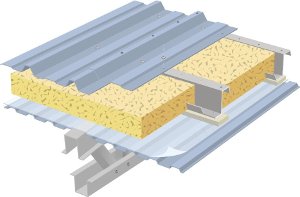 (Uc 0.18 for 250 mm of insulation)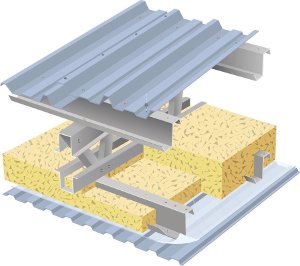 (Uc 0.17 for 250 mm of insulation)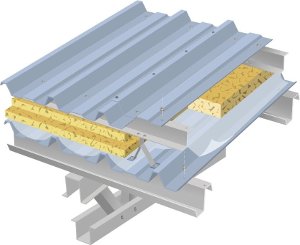 CE Certification
Quality assurance is carried out in accordance with the ISO 9001, EN 1090-1 and EN 1090-2 guidelines, as well as legislation in each country covering all subsidiaries within the Group. Construction work and manufacturing are checked annually against the requirements of EN 1090-1 and certified by the company's A3 Certification.
Feel free to ask us about anything that interests you.
Your questions will be answered by one of our certified designers.
Technical questions