Factories and production buildings are one of the main uses of the LLENTAB system.
Manufacturing plants and production buildings are a very important part of our references. We have experience in the production of industrial buildings for various industries (starting from light industry through specialised food production to heavy industry). The very high level of flexibility of our technology allows us to meet the most demanding requirements (e.g. implementation of different kinds of technologies, crane tracks, large sliding gates, floors, etc.).
A frequent case is the interconnection of production with stock if there is no separate warehouse. As early as at the stage of project creation, we take into consideration the possible direction of changes, giving investors the opportunity to expand the structure easily in the future. As we have already delivered more than 2,500 production buildings within Europe, you can search through thousands of production references to find several near to you or you can gain inspiration from other existing projects.
Examples of the use of production buildings
Mills, manufacturing plants

Industrial production buildings

Frozen food factories

Processing of wood and building materials

Publishing houses

Buildings for furniture production
Why are LLENTAB customers satisfied and why do they repeatedly build production facilities with us?
We are able to combine requirements on terms, prices and quality. We listen carefully to customer needs during our standardized 10-step process of realising their production building, i.e. from the first contact to the final handover of the completed building. Moreover, the handover of the building is not usually the last part of the cooperation. All projects are kept in our database; that's why we can react quickly when customers later want, for example, to insulate the building or change the layout. With more than 10,000 completed buildings, we know that additional requirements will probably come.
Client feedback after many years of cooperation
"I was surprised that everything fitted with an accuracy of one millimetre in a steel building that was 80 m long and 20 m wide, where each and every element is cut and perforated at the manufacturing stage –  at least that's what my colleague said. It was hard for me to believe, because I knew from my own experience that with such structures, sometimes a small mistake is enough to produce a chain of errors. The building was erected within two weeks, which was also a very important factor for me. Of course, we also considered proposals from other companies specializing in steel and brick buildings; however, LLENTAB's offer was the most cost-effective and had the shortest completion period.  I believe that experimenting with another company simply wouldn't make sense."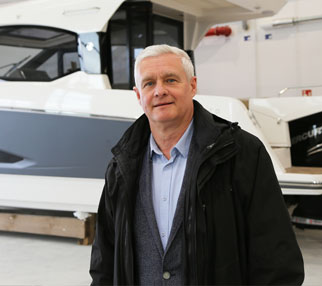 One system – many different buildings for production
We have something more for all of you.
Regardless of whether you are a direct client, general contractor or architect, we have more than just steel buildings for all of you.