Effective and representative office buildings are easily built with the LLENTAB system.
Office space is needed for almost every company. The LLENTAB system is used both for standalone administrative buildings and for embedded office floors inside retail, warehouse or production buildings. The office space is often subject to the most demanding requirements, such as layout, natural lighting, acoustic parameters and many others. Our system meets all these specific requirements. You can search through of references to find several office buildings near to you and thus you can gain inspiration from other existing office projects.
Buildings related to Office and Administration
Multi-storey office buildings

Standalone administrative buildings

Embedded office floors in production halls

Office floors in retail or warehouse buildings
Why are LLENTAB customers satisfied and why do they repeatedly build offices with us?
We are able to combine requirements on quality, terms and prices. We listen carefully to customer needs during our standardised 10-step process of realising their offices, i.e. from the first contact to the handover of the completed building. Moreover, the handover of the offices is not the last part of the cooperation. All projects are maintained in our database, which is why we can react quickly when clients later want, for example, to insulate the building or build an extension. With more than 10,000 completed buildings, we know that additional requirements will come.
Our goal is good long-term customer relationships and environmentally friendly production and practices as well. In addition to a personal approach, another foundation of our success is a thoughtful, efficient and flexible building system. For more details, please see the technical information and videos from production and assembly. We design an efficient building construction for offices and recommend one of the types of wall and roof cladding. We understand customer requirements and always meet them effectively.
Client feedback with LLENTAB office building
"When our father first mentioned LLENTAB, we thought about a classic steel building with a saddle roof. We wanted a flexible solution to grow with; expansion opportunities are important to us. But we also had demands on the appearance, a stylish design and a creative environment to reflect the business – clean, stylish, white and high quality. And we must say we haven't seen a better looking LLENTAB building (Linda and Fredric are continuously smiling). We were very pleased with LLENTAB throughout the process and felt very confident. Thanks to their professional staff, flexible solutions and good references, LLENTAB really succeeded with the project as a whole."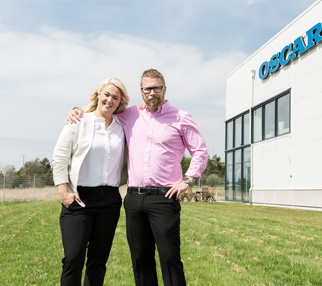 One system – many different office and other buildings
We have something more for all of you.
Regardless of whether you are a direct client, general contractor or architect, we have more than just steel buildings for all of you.