Storage and logistics buildings are one of the main uses of the LLENTAB system.
Warehouses and logistics and storage buildings form the main part of our references. As we have already delivered more than 3,500 projects within Europe, you can search through thousands of storage references? to find several near to you or you can gain inspiration from other existing projects.
The construction solutions we propose allow the creation of optimal spaces for the storage of various types of goods. Therefore, we build uninsulated storage spaces for various kinds of products and, on the other hand, build fully insulated warehouses for electronics or cold storage for the food and pharma industries. Our modern production lines for steel profiles create almost unlimited possibilities for creating warehouses. The flexibility of building storage buildings using our system enables the construction of both small warehouses with an area of around 500 m2 and with a height of the storage zone from about 6 metres and industrial warehouses with a larger area and height.
Examples of use of warehouse buildings
warehouses for all different kinds of consumer goods

insulated and non-insulated freight centres

warehouses for the pharmaceutical and food industries

warehouses with the highest level of fire resistance
Why are LLENTAB customers satisfied and why do they return to us repeatedly for their building needs?
We are able to combine requirements on quality, terms and prices. We listen carefully to their needs during our standardised 10-step process of realising their storage building, i.e. from the first meeting to the final handover of the completed building. Moreover, the handover of the building is not the end of the cooperation. All projects are kept in our database forever. Thus, we can react quickly when clients subsequently wish, for example, to insulate the building or build an extension. With more than 10,000 completed projects, we know that additional requirements will certainly come.
Storage building assembly video and related client feedback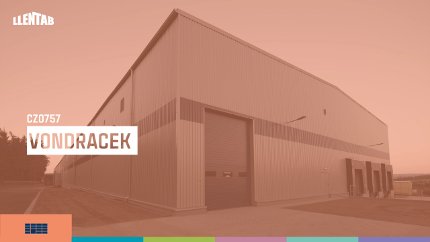 "From the very beginning of the design, through production to final assembly, the project literally surpassed all our expectations.

A pleasant surprise for us was the fact that the builders were able and willing to work even at temperatures well below freezing. Above all, thanks to their approach, the deadline for completion was not postponed, which was very important to us, given further commitments."
One system – many different buildings for storage and logistics
We have something more for all of you.
Regardless of whether you are a direct client, general contractor or architect, we have more than just steel buildings for all of you.