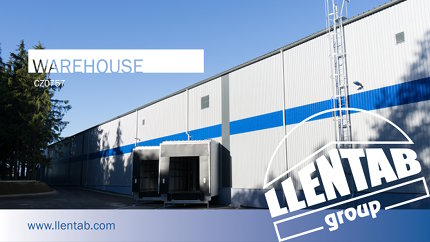 On 31 May 2016 we completed an annex to a storage hall in Háje in the Příbram area [49°40'35.0″N 14°02'58.6″E]. It is an insulated storage hall annexed to an existing building. The hall has a rectangular ground plan sized 34.156m x 156.988m. The interior is divided using a fire partition. The internal vertical clearance is 8.3m.
The roof cladding is insulated, made of TP46 galvanised trapezoidal sheets and 150mm wide thermal insulation (mineral wool). Except for the partition wall and one gable, all cladding (type 3) is insulated and made using vertically mounted IP18 galvanised trapezoidal sheets and thermal insulation. The core is 150mm mineral wool with a steam barrier, and in the interior the wall is covered with vertically mounted interior profiled galvanised sheets.
One gable (type 4F) is made of vertically mounted IP18 galvanised steel sheets with thermal insulation made of 150mm mineral wool. The fire partition is made of horizontally installed LL150 WOOL sandwich panels with mineral core.
Colour design: Roof: LL 9006, walls: LL 5010 and LL 9006 + 3 stripes in RAL 7011 on both lengthwise walls.
Investor's comments:
"Overall, I rate the cooperation with LLENTAB very highly. From the very beginning of the design work to the manufacturing to the final assembly, the project literally exceeded all our expectations. It was a nice surprise for us to find that the company's workers were able and willing to work even at temperatures well below freezing point. It is primarily thanks to their commitment that the completion deadline did not have to be postponed, which was very important for us considering our subsequent obligations."
Josef Vondráček, Managing Director of Josef Vondráček, s.r.o., Project CZ0757.