Yes; although it may not seem so at a glance, the name of the European steel hall manufacturer has its exact meaning – just look at the name of Leif Lindblad Entreprenad AB, a company incorporated in Sweden in 1972, which has grown into the current global LLENTAB Group. The founder's name is obvious at a glance, the abbreviation 'AB' stands for Aktiebolag or public company, and Entreprenad is Swedish for construction.
Construction company to a steel hall producer.
German Philosopher Arthur Schopenhauer said that "Life is like a game of chess. You devise a plan, but it is conditional on what your opponent intends in chess, or destiny in life." Leif Lindblad's plans evolved similarly. He initially founded his business as a traditional construction company, but orders for storage halls started growing soon. So he and friends started trying out suitable structures – and the result was the first LLENTAB hall built in 1977. That is also when the operation moved to Kungshamn on Sweden's west coast, where LLENTAB's headquarters are today. The original hall solution was redesigned in the early 1980s and the new solution looked more like the traditional steel hall with flat walls and a gabled or pent roof. The great degree of adaptability offered by this LLENTAB system opened the doors to new, much bigger markets.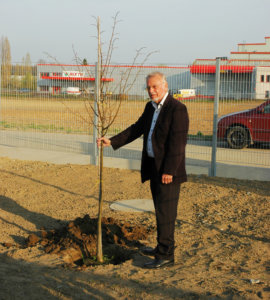 Strong and stable company present in seven European countries.
Having tapped new markets, the LLENTAB concept continued evolving, and its quality and production process efficiency generated more demand. LLENTAB opened its first branch office outside Sweden, in Bergen, Norway, in 1987. More branches followed in Poland, Germany, the Czech Republic, Ukraine and Slovakia. LLENTAB Group has been growing steadily in recent years, without losing solvency. It has been continuously investing large amounts in new production lines, the last one being the sandwich panel production line in Kungshamn. The shareholder backing is also stable and strong – the company is currently wholly owned by Nordstjernan AB, a major family-owned Swedish investment firm oriented on long-term acquisition and one of the ultimate market leaders in the construction industry (its key business) in the Nordics. This ownership structure provides strong credibility, financial assurance and sustainability, which lends the entire Group a good position for sound development in both short- and long-term perspectives.