The course of construction of warehouse hall CZ0757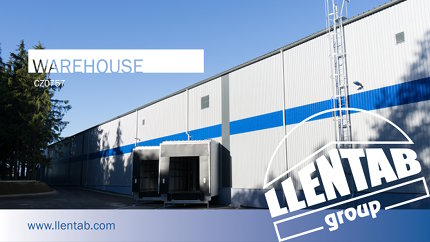 On 31 May 2016 we completed the extension of a warehouse in the village of Háje [49°40'35.0″N 14°02'58.6″E]. It is an insulated warehouse connected to an existing building. The hall has a planar shape of a rectangle measuring 34.156 m x 156.988 m. The interior space is divided by a fire wall. The internal clear height of the building is 8.3 m.
The roof sheath is insulated, made of galvanized TP46 trapezoidal sheet and 150 mm wide thermal insulation (mineral wool). The wall covering (type 3), apart from the dividing fire wall and one shield side, is insulated, made from a vertically laid galvanized trapezoidal sheet IP18 and thermal insulation. The filler is a 150 mm mineral wool with a vapor-proof foil, and then the wall is folded by an internal, also vertically-laid, profiled galvanized sheet from the interior.
One shield side (type 4F) is made of a vertically-laid galvanized sheet steel IP18 with thermal insulation of 150 mm mineral wool. Horizontal panel LL150 WOOL with mineral filler is used on the dividing fire wall.
Color solution: LL 9006 roof. Walls in LL 5010 and LL 9006 + 3 stripes in RAL 7011 on both sides of the hall.