Stockholm's third and the country's eighth full-sized football hall was opened in September 2017. At nearly 8,000 m2, Sollentuna Football Hall is an insulated training facility where the municipality's 3,000 young football players can now practice their favourite sport year-round.
The Sollentuna Football Hall is located along the waterfront walk in Norrviken. Construction was launched in January 2017 and took six months to complete. The hope is that the new training facility will reduce the pressure on other halls in the municipality and drive additional development in Norrviken's sports facilities as a whole. As a full-scale facility, Sollentuna Football Hall has a pitch size of 103 x 63 meters and can be divided up into two or four smaller pitches. The building itself is 110 x 70 meters in size, with an interior ceiling height of 14 meters.
Strength a key concern
Erlandssons Bygg Stockholm was serving as the design-and-build contractor for the Sollentuna Football Hall and contracted LLENTAB to construct the building envelope. LLENTAB's high-strength steel solutions were ideal for the wide spans of the building.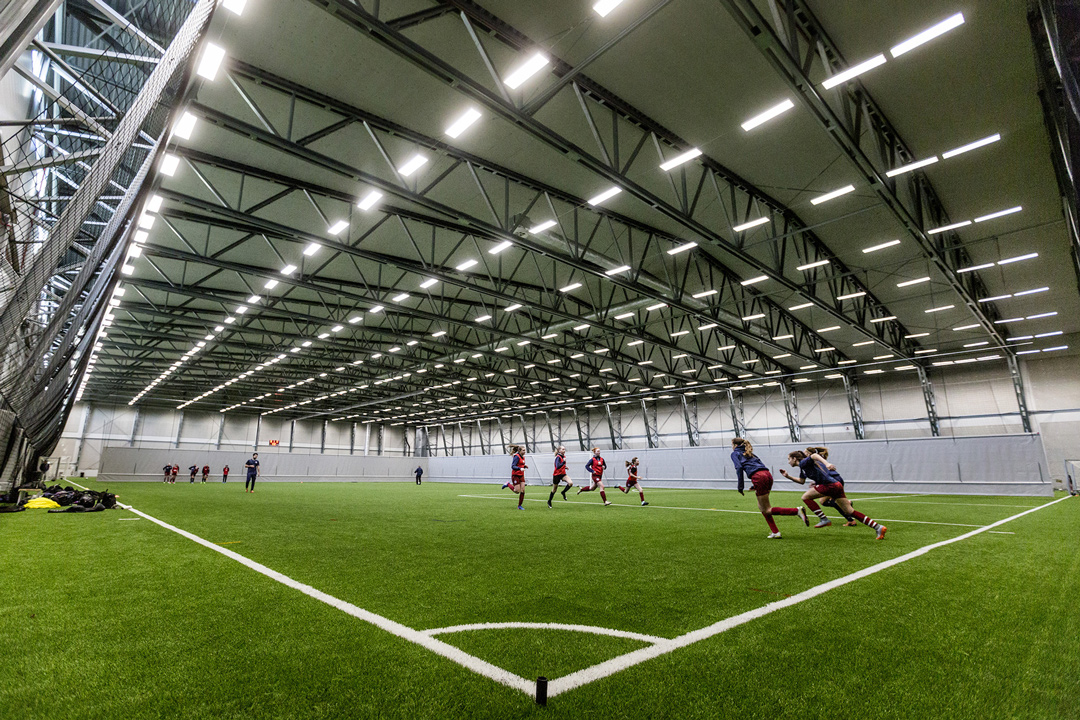 LLENTAB designed, manufactured and installed the entire shell of the building, including framing, walls, and roof, as well as doors, windows and gates. Highly insulated sandwich panels were used to create an even indoor climate, and load-bearing structures were built from high-strength steel profiles, all manufactured in the company's own production facility in Kungshamn.
Successful investment
Norrviken's football hall is currently in full use, and winter operation also made for an extended season for the football clubs. The investment has therefore already started to fulfil its objective of allowing for year-round, weather-independent training for football and other sports. LLENTAB is already underway with the next football project, in which Elfborg sports club in Borås will be building a full-size football hall. Construction is planned to start in September 2018.
"If you're going to construct a building over an entire football pitch, you need to have extremely strong structural framing. Here we are able to offer a lighter and more efficient steel structure than you would see in traditional building systems. Our solution required approximately 20% less steel than corresponding solutions from competing suppliers, which quite clearly had an impact on cost. There are many who carry out similar projects, but not at such a competitive price. And it goes without saying that lower material consumption is better for the environment."