The official origin of padel is rather obscure – according to several sources, a similar game appeared on English cruise ships in the 1920s. But according to the International Padel Federation, the sport was invented in 1962 in Puerto de Acapulco, Mexico, where Enrique Corcuera built the first court on his property.
Friends of Enrique Corcuera suggested certain changes and helped to spread the sport – mainly around Latin America and Spain. According to the International Padel Federation, the sport is played in over 90 countries, with 43 national federations and 18 million players worldwide. The Swedish Padel Association was started in 2010, but the first padel court was built as early as 1998 outside Båstad by Thommy Andersson, who became very interested in the sport during a trip to Marbella. Today, interest in padel is growing in Sweden: it is one of the country's fastest-growing sports.
LLENTAB creates opportunities
LLENTAB has built several padel halls around Sweden, and it is clear that interest in this kind of building has increased. Padel halls are a relatively new business area that has "popped up" for LLENTAB and other hall builders – not only in Sweden. LLENTAB recently built a new padel halls in Uddevalla, Uppsala and Stora Höga.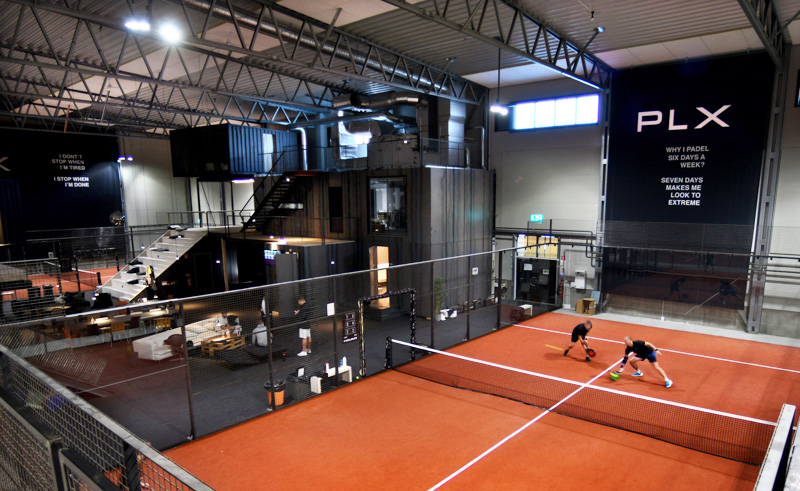 PLX Padel – First-class paddle hall (Uddevalla)
The property is intended for padel tennis. This is a LLENTAB hall in a modern style. A state-of-the-art property with changing rooms, a small kitchen, and no less than seven padel courts. The property amounts to 2,780 square meters and the rooms were constructed using cargo containers as a basis – lending a modern and industrial feel.
UTK hallen – A combined tennis and padel hall  (Uppsala)
A first-class padel court with Swedish-made steel construction, 12-millimetre tempered glass, and a modern surface with curled artificial grass. This surface is used on the World Padel Tour. The surface means that less sand is needed, and the 12-millimeter glass gives a smoother and better bounce.