To us, sustainability entails ensuring that everything we plan and execute is in compliance with our ethical guidelines and that it is designed responsibly from a long-term perspective – which we continue to develop in the respective areas. In this way, we work to encompass environmental, financial and social aspects.
To us, sustainability entails ensuring that everything we plan and execute is designed responsibly from a long-term perspective – which we continue to develop in the respective areas. It is our ambition to include the perspective of sustainability in everything we do, from how we meet and interact with customers, partners and one another in the workplace, to how we minimise the environmental impact in our processes and make a positive contribution to the communities in which we operate.
In our undertakings, we at LLENTAB strive to contribute to energy and resource efficiency throughout the project life-cycle, by constructing climate-smart steel buildings and manufacturing energy-efficient construction components, while simultaneously minimising the consumption of harmful substances. This involves designing and constructing buildings to withstand the effects they will be subjected to – both when built and for years thereafter.
In our undertakings, we at LLENTAB strive to generate optimal conditions with regard to minimising the environmental impact and to contribute to energy and resource efficiency both at our production facilities and on-site at the projects in which we participate.
As a significant construction contractor, we have a responsibility to choose materials that are environmentally sound and sustainable and that it is possible to reuse and/or recycle. In addition, we work to reduce the climate impact, with a special emphasis on energy consumption and the optimisation of material consumption and transport operations, at the same time ensuring that any and all waste is dealt with in a safe, environmentally responsible manner.
Steel production, rolling, cutting and punching are the processes that demand the greatest share of energy consumption. LLENTAB therefore works with long-term solutions for recovering heat during the manufacturing processes. We also work consciously to limit material waste in the field of production. We work ceaselessly to reduce energy consumption and to make good environmental decisions when purchasing new machines and equipment.
Transport operations constitute a key issue in our environmental work. The majority of the raw materials we purchase are transported by sea and rail, and we work to minimise our carbon emissions through efficient logistics involving flat pack solutions and good working relationships with logistics companies.
Waste management is another important area of our environmental and sustainability work. LLENTAB is a member of the Swedish Förpacknings- och Tidningsinsamlingen (fti) network, which is a system for the collection and recycling of packaging in the trade and industry sectors. Through a national agreement on waste management for both production facilities and construction enterprises, the objective is to achieve 100% sorting at source. The fruits of successful environmental work benefit both the environment and the economy. To support its environmental work, LLENTAB draws on an environmental management system that largely follows the ISO 14001 environmental standard.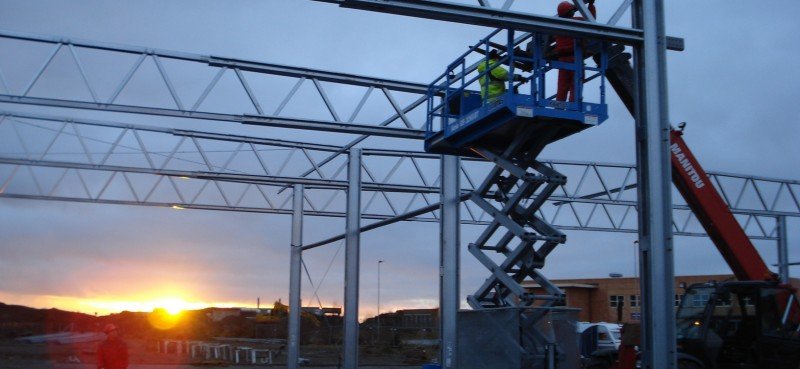 Naturally recyclable material
LLENTAB products are principally made of steel, which is a naturally occurring raw material found in nature as iron ore. Building in steel involves the efficient use of the planet's resources, given that steel can be recycled and reused almost endlessly. No other construction material offers the same high level of recycling capacity, free from harmful substances and gas emissions. When a steel construction is demolished, certain parts can be reused immediately, either as they are or following some modification. It is also possible to melt the entire construction down to produce new steel. A large part of all steel actually comes from scrap steel, and around 20% of all steel is recycled. Moreover, steel carries no risk of moisture damage and fulfils all technical and functional requirements. Visit the website of the Swedish Institute of Steel Construction (Stålbyggnadsinstitutet) to find out more.

Building materials declaration and building materials assessment
Like the construction industry in general, LLENTAB is, of course, working to phase out harmful substances. In order to facilitate the choice of sustainable products, we work with the following Swedish systems: Byggvarubedömningen, SundaHus and BASTA.
Contact us if you would like to see the product assessments from the Byggvarubedömningen scheme. Structural steel, high-profile sheet, ceiling and wall plates and sandwich panels made at LLENTAB are all registered in BASTA. The products listed below are registered in SundaHus.
Sandwich panels (standard)
Sandwich panels (strong)
Steel frames